Welcome to the Stellarcore 3D printing and fabrication service. I am a maker with my own 3D printer, desktop CNC, and laser cutting equipment. I am always looking for interesting projects to put my tools to work and helping out people who are not as fortunate to have access to the same equipment.
Ai-kon Winterfest 2019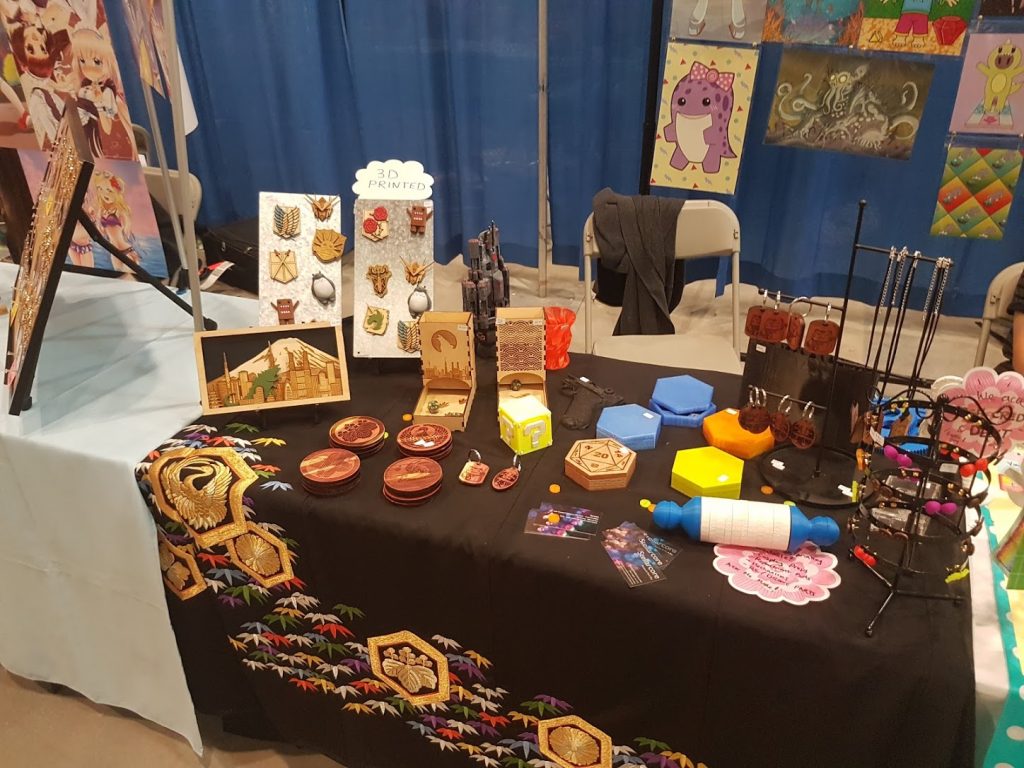 Thanks to everyone who came out and saw our table at Ai-kon Winterfest 2019. If there was a particular piece that you saw but weren't able to get at the convention, please don't hesitate to contact me with the form below. If you would like a specific item or to customize an item that you saw at the show, please describe what you would like and I'll get back to you as soon as I can. We are located in Winnipeg and can arrange for local pick-up or shipping via Canada Post.

If you have a project that you would like for me to quote,  please email me at create@stellarcore.com with as much detail as possible.  If you have 3D models to send, please link to them, or share them through a file sharing service such as DropBox
Include any preferences in materials such as type and colour.  For 3D printing jobs, I have a fairly broad variety of colours and types of plastic and will let you know if the colour you chose is available.   The lists below outline some of the capabilities of my equipment.
3D Printer
Custom built Prusa i3 3D printer
Build area: ~200mm x 200mm x 200mm
Layer heights down to 0.10mm
Autoleveling heated print bed.
Enclosed printing chamber.
Various materials and colours available including: ABS, PLA, Flex, wood and carbon fiber filled PLA.
CNC Machine
Probotix Fireball V90 CNC Machine
Cutting area: ~ 11? x 17? x 3?
Ball Screws on all 3-axes
1/2 HP palm router spindle accepts 1/4? shank router bits
Precision DC spindle accepts 1/8? shank bits
Maximum feedrate ~60 ipm.
Capable of cutting soft materials, such as wood, MDF, and some plastics.
2-sided printed circuit board prototypes.
Laser Cutter
K40 40W C02 Laser Cutter
Cutting area of ~ 8.5? x 11?
Upgraded adjustable bed
Air-assisted cutting
Material thickness up to ~ 3mm
Capable of cutting, etching, engraving materials including plywood, acrylic, paper/card-stock, foam, leather, etc.