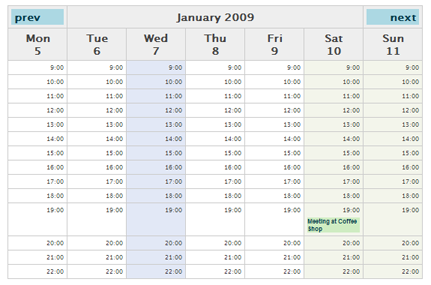 Recently I began my first CakePHP project; for those of you who aren't aware, CakePHP is a popular model-view-controller framework for creating web applications in PHP.
In my project, I had the need for a calendar in a few of my views, and after looking around a bit, I found a nice and simple calendar helper.  The helper works fine and dandy, but doesnt quite do all of the things I needed; namely, what was missing was a weekly calendar view that displays an hourly schedule one week at a time.
The main differences between my helper and the original is the addition of the "week" function and the renaming of the "calendar" function to "month".
I've also changed the code a bit to make the $data parameter that's passed to both the month and week functions an optional associative array that also allows you to set an onClick and class type for each cell in addition to the content. This makes it much easier to incorporate AJAX or just plain javascript with the calendar. For example:

$weekData=array();
$weekData[10][12] = array('content'=>'Lunch time',
'onClick'=>'alert(\'mmm.. lunch\');',
'class'=>'lunch');

If you passed $weekData to the week function, the cell on the 10th day (if it exists) at 12pm would have "Lunch time" in the cell, and when you click it will alert 'mm.. lunch'.
Also added are cell id's; in the monthly calendar, each cell has the id "cell-DD" where DD is the day of the month. In the weekly calendar, it is "cell-DD-HH' where HH is the hour. This makes it easier to dynamically change cells or determine which one is selected with javascript.
&

lt

;

 ?php	
 


/**
* Calendar Helper for CakePHP
*
* Copyright 2007-2008 John Elliott
* Licensed under The MIT License
* Redistributions of files must retain the above copyright notice.
*
*
* @author John Elliott
* @copyright 2008 John Elliott
* @link http://www.flipflops.org More Information
* @license http://www.opensource.org/licenses/mit-license.php The MIT License
*
*/


 


class

 CalendarHelper 

extends

 Helper


{


	

var

 

$month_list

 

=

 

array

(

'january'

,

 

'february'

,

 

'march'

,

 

'april'

,

 

'may'

,

 

'june'

,

 

'july'

,

 

'august'

,

 

'september'

,

 

'october'

,

 

'november'

,

 

'december'

)

;


	

var

 

$day_list

 

=

 

array

(

'Mon'

,

 

'Tue'

,

 

'Wed'

,

 

'Thu'

,

 

'Fri'

,

 

'Sat'

,

 

'Sun'

)

;


 
	

var

 

$helpers

 

=

 

array

(

'Html'

,

 

'Form'

)

;


 
	

/**
	 * Perpares a list of GET params that are tacked on to next/prev. links.
	 * @retunr string - urlencoded GET params.
	 */


	

function

 getParams

(

)


	

{


		

$params

=

array

(

)

;


		

foreach

 

(

$this

-&

gt

;

params

[

'url'

]

 

as

 

$key

=&

gt

;

$val

)


			

if

 

(

$key

 

!=

 

'url'

)


				

$params

[

]

=

urlencode

(

$key

)

.

'='

.

urlencode

(

$val

)

;


		

return

 

(

count

(

$params

)

&

gt

;

0

?

'?'

.

join

(

'&'

,

$params

)

:

''

)

;


	

}


 
	

/**
	* Generates a Calendar for the specified by the month and year params and populates it with the content of the data array
	*
	* @param $year string
	* @param $month string
	* @param $data array
	* @param $base_url
	* @return string - HTML code to display calendar in view
	*
	*/


 
	

function

 month

(

$year

 

=

 

''

,

 

$month

 

=

 

''

,

 

$data

 

=

 

''

,

 

$base_url

 

=

''

)


	

{


		

$str

 

=

 

''

;


		

$day

 

=

 

1

;


		

$today

 

=

 

0

;


 
		

if

(

$year

 

==

 

''

 

||

 

$month

 

==

 

''

)

 

{

 

// just use current yeear & month


			

$year

 

=

 

date

(

'Y'

)

;


			

$month

 

=

 

date

(

'm'

)

;


		

}


 
		

$flag

 

=

 

0

;


 
		

for

(

$i

 

=

 

0

;

 

$i

 

&

lt

;

 

12

;

 

$i

++

)

 

{


			

if

(

strtolower

(

$month

)

 

==

 

$this

-&

gt

;

month_list

[

$i

]

)

 

{


				

if

(

intval

(

$year

)

 

!=

 

0

)

 

{


					

$flag

 

=

 

1

;


					

$month_num

 

=

 

$i

 

+

 

1

;


					

break

;


				

}


			

}


		

}


 
		

if

(

$flag

 

==

 

0

)

 

{


			

$year

 

=

 

date

(

'Y'

)

;


			

$month

 

=

 

date

(

'F'

)

;


			

$month_num

 

=

 

date

(

'm'

)

;


		

}


 
		

$next_year

 

=

 

$year

;


		

$prev_year

 

=

 

$year

;


 
		

$next_month

 

=

 

intval

(

$month_num

)

 

+

 

1

;


		

$prev_month

 

=

 

intval

(

$month_num

)

 

-

 

1

;


 
		

if

(

$next_month

 

==

 

13

)

 

{


			

$next_month

 

=

 

'january'

;


			

$next_year

 

=

 

intval

(

$year

)

 

+

 

1

;


		

}

 

else

 

{


			

$next_month

 

=

 

$this

-&

gt

;

month_list

[

$next_month

 

-

1

]

;


		

}


 
		

if

(

$prev_month

 

==

 

0

)

 

{


			

$prev_month

 

=

 

'december'

;


			

$prev_year

 

=

 

intval

(

$year

)

 

-

 

1

;


		

}

 

else

 

{


			

$prev_month

 

=

 

$this

-&

gt

;

month_list

[

$prev_month

 

-

 

1

]

;


		

}


 
		

if

(

$year

 

==

 

date

(

'Y'

)

 

&

amp

;&

amp

;

 

strtolower

(

$month

)

 

==

 

strtolower

(

date

(

'F'

)

)

)

 

{

	
		

// set the flag that shows todays date but only in the current month - not past or future...


			

$today

 

=

 

date

(

'j'

)

;


		

}


 
		

$days_in_month

 

=

 

date

(

"t"

,

 

mktime

(

0

,

 

0

,

 

0

,

 

$month_num

,

 

1

,

 

$year

)

)

;


 
		

$first_day_in_month

 

=

 

date

(

'D'

,

 

mktime

(

0

,

0

,

0

,

 

$month_num

,

 

1

,

 

$year

)

)

;

 
 
		

$str

 

.=

 

'
'; $str .= "; $str .= "; $str .= "; for($i = 0; $i < 7;$i++) { $str .= "; $str .= "; $str .= "; while($day < = $days_in_month) { $str .= "; for($i = 0; $i < 7; $i ++) { $cell = ' '; $onClick="; $class = "; $style ="; if($i > 4) { $class = ' class="cell-weekend" '; } if($day == $today) { $class = ' class="cell-today" '; } if(isset($data[$day])) { if (is_array($data[$day])) { if (isset($data[$day]['onClick'])) { $onClick = ' onClick="'.$data[$day]['onClick'].'"'; $style= ' style="cursor:pointer;"'; } if (isset($data[$day]['content'])) $cell = $data[$day]['content']; if (isset($data[$day]['class'])) $class = ' class="'.$data[$day]['class'].'"'; } else $cell = $data[$day]; } if(($first_day_in_month == $this->day_list[$i] || $day > 1) && ($day < = $days_in_month)) { $str .= '<td ' . $class .$style.$onClick.' id="cell-'.$day.'">' . $day . " . $cell . "; $day++; } else { $str .= '<td ' . $class . '> '; } } $str .= "; } $str .= "; $str .= '
'; $str .= $this->Html->link(__('prev', true), $base_url.'/' . $prev_year . '/' . $prev_month.$this->getParams()); $str .= '
' . ucfirst($month) . ' ' . $year . '
'; $str .= $this->Html->link(__('next', true), $base_url.'/' . $next_year . '/' . $next_month.$this->getParams()); $str .= '
' . $this->day_list[$i] . "; } $str .= '
';
 
		return $str;
	}
 
	/**
	* Generates a Calendar for the week specified by the day, month and year params and populates it with the content of the data array
	*
	* @param $year string
	* @param $month string
	* @param $day string
	* @param $data array[day][hour]
	* @param $base_url
	* @return string - HTML code to display calendar in view
	*
	*/
 
	function week($year = '

', $month = '

', $day = '

', $data = '

', $base_url ='

', $min_hour = 8, $max_hour=24)
	{
		$str = '

';
 
		$today = 0;
 
		if($year == '

' || $month == '

') { // just use current yeear & month
			$year = date('

Y

');
			$month = date('

F

');
			$day = date('

d

');
			$month_num = date('

m

');
		}
 
		$flag = 0;
 
		for($i = 0; $i < 12; $i++) {
			if(strtolower($month) == $this->month_list[$i]) {
				if(intval($year) != 0) {
					$flag = 1;
					$month_num = $i + 1;
					break;
				}
			}
		}
 
		if ($flag == 1)
		{
			$days_in_month = date("t", mktime(0, 0, 0, $month_num, 1, $year));		
			if ($day < = 0 || $day > $days_in_month) 
				$flag = 0;
		}
 
		if($flag == 0) {
			$year = date('

Y

');
			$month = date('

F

');
			$month_num = date('

m

');
			$day = date('

d

');
			$days_in_month = date("t", mktime(0, 0, 0, $month_num, 1, $year));		
		}
 
		$next_year = $year;
		$prev_year = $year;
 
		$next_month = intval($month_num);
		$prev_month = intval($month_num);
 
		$next_week = intval($day) + 7;
		$prev_week = intval($day) - 7;
 
		if ($next_week > $days_in_month)
		{
			$next_week = $next_week - $days_in_month;
			$next_month++;
		}
 
		if ($prev_week < = 0) 
		{
			$prev_month--;
			$prev_week = date('

t

', mktime(0,0,0, $prev_month,$year)) + $prev_week;
		}
 
		$next_month_num = null;
		if($next_month == 13) {
			$next_month_num = 1;
			$next_month = '

january

';
			$next_year = intval($year) + 1;
		} else {
			$next_month_num = $next_month;
			$next_month = $this->month_list[$next_month -1];
		}
 
		$prev_month_num = null;
		if($prev_month == 0) {
			$prev_month_num = 12;
			$prev_month = '

december

';
			$prev_year = intval($year) - 1;
		} else {
			$prev_month_num = $prev_month;
			$prev_month = $this->month_list[$prev_month - 1];
		}
 
		if($year == date('

Y

') && strtolower($month) == strtolower(date('

F

'))) {	
		// set the flag that shows todays date but only in the current month - not past or future...
				$today = date('

j

');
		}
 
		//count back day until its monday
		while ( date('

D

', mktime(0,0,0, $month_num, $day, $year)) != '

Mon

')
			$day--;	
 
		$title = '

';
		if ($day+6>$days_in_month)
		{
			if ($next_month == '

january

')
				$title = ucfirst($month).'

 

'.$year.'

 

/

 

'.ucfirst($next_month).'

 

'. ($year+1);
			else
				$title = ucfirst($month).'

/

'.ucfirst($next_month).'

 

'.$year;
 
		} else 
			$title = ucfirst($month).'

 

'.$year;
 
		$str .= '
'; $str .= "; $str .= "; $str .= "; for($i = 0; $i < 7;$i++) { $offset = 0; if ($day+$i > $days_in_month) $offset = $days_in_month; else if ($day+$i < 1) $offset = – date('t',mktime(1,1,1,$prev_month_num,1,$prev_year)); $str .= "; $str .= "; $str .= "; for($hour=$min_hour;$hour < $max_hour;$hour++) { $str .= "; for($i = 0; $i < 7; $i ++) { $offset = 0; if ($day+$i > $days_in_month) $offset = $days_in_month; else if ($day+$i < 1) $offset = – date('t',mktime(1,1,1,$prev_month_num,1,$prev_year)); $cell = "; $onClick="; $style ="; $class = "; if($i > 4) { $class = ' class="cell-weekend" '; } if(($day+$i) == $today && $month_num == date('m') && $year == date('Y')) { $class = ' class="cell-today" '; } if(isset($data[$day+$i-$offset][$hour])) { if (is_array($data[$day+$i-$offset][$hour])) { if (isset($data[$day+$i-$offset][$hour]['onClick'])) { $onClick = ' onClick="'.$data[$day+$i-$offset][$hour]['onClick'].'"'; $style= ' style="cursor:pointer;"'; } if (isset($data[$day+$i-$offset][$hour]['content'])) $cell = $data[$day+$i-$offset][$hour]['content']; if (isset($data[$day+$i-$offset][$hour]['class'])) $class = ' class="'.$data[$day+$i-$offset][$hour]['class'].'"'; } else $cell = $data[$day+$i-$offset][$hour]; } $str .= '<td '.$class.$onClick.$style.' id="cell-'.($day+$i-$offset).'-'.$hour.'">' . $hour.':00′ . " . $cell . "; } $str .= "; } $str .= "; $str .= '
'; $str .= $this->Html->link(__('prev', true), $base_url.'/' . $prev_year . '/' . $prev_month.'/'.$prev_week.$this->getParams()); $str .= '
' . $title . '
'; $str .= $this->Html->link(__('next', true), $base_url.'/' . $next_year . '/' . $next_month.'/'.$next_week.$this->getParams()); $str .= '
' . $this->day_list[$i] . '
'.($day+$i-$offset)."; } $str .= '
';
 
		return $str;
	}	
}	
 
?>