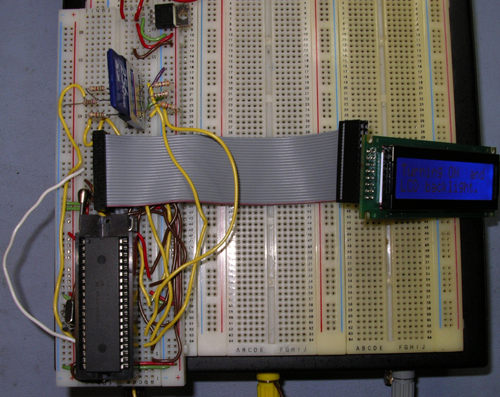 An early prototype which shows the PIC successfully interfaced with the LCD Module; The SD card is also there, but so far I've had limited success with it
As many of you know, earlier this year I decided to begin work on my very own MP3 Player. I decided that as a computer engineering student, we don't get enough practical experience dealing with the design of actual hardware that we later implement.
After racking my brain for a project idea, I decided to attempt to design my very own mp3 player. I realize that there are already many projects available online, such as minty mp3, the famous Altoids tin mp3 player project, but that would be taking the easy way out; to truly get the value from the project, I decided that I would need to design the system my self from start to finish.
Stay Tuned for more info on this project. In the next few days I'll post some datasheets, schematics and some more details on exactly what success and failure I've had with the project thus far.

I began by looking around the net and reading about various projects, chips and other packages that will be neccessary for my player. I decided on using the following components for (although the project is still early in development and things are likely to change):
Components: